SHOPPING IN JODHPUR
Jodhpur is a delightful place to shop. With multitude of bazaars, tradition of handicrafts going back centuries, fabulous jewelry, luxurious and hand printed textiles, as well as paintings, and artefacts, make Rajasthan a complete shopping destination for every budget and taste.
You'll be serenaded with intricately carved furniture, bright colors, ethnic clothes, exquisite handicrafts and more. Shopping in Jodhpur is an exciting and rewarding shopping experience for the visitors.
Shopping in Jodhpur with Rajasthan Holiday takes you on a dream tour of an ethnic land of mirrors, sequins, beads, lehengas, turbans, lahariya bandhini's and richly carved wooden furniture apart form an unimaginably wide variety of handicrafts that add color to the splendid Jodhpur soul.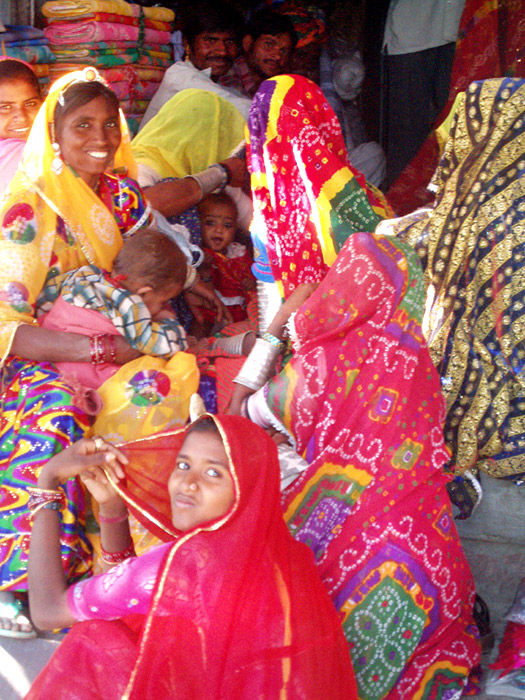 The Sardar Market, which is just off the main shopping area called Nai Sadak, is a good place to buy local crafts and just about anything else. Sarafa Bazaar is a haunt for silver junkies. Most beautiful, exquisite traditional jewelry can be found here.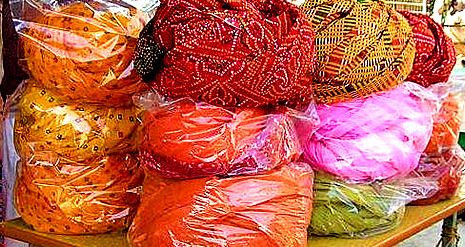 The main Shopping Places of Jodhpur are:
Sojati Gate for souvenirs and gifts and also saris
Station Road for leather, embroidered shoes and badla
Tripolia Bazaar for local textiles and handicrafts
Sarafa Bazaar for silver jewellery
Khanda Falsa for tie and dye fabric
Lakhera Bazaar for lac bangles
Mojaris are to be found at Mochi Bazaar and Clock Tower area
Durries are woven at Village Salawas, 18 km from city centre.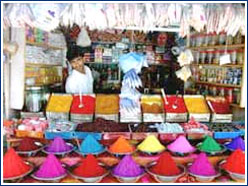 Book Hotel Online, Get Instant Confirmation

ABOUT JODHPUR
Jodhpur "The Sun City" was founded by Rao Jodha, a chief of the Rathore clan, in 1459. It is named after him only. Jodhpur in Rajasthan , India was previously known as Marwar. Jodhpur is the second largest city in Rajasthan. Jodhpur is a popular tourist destination, featuring many palaces , forts and temples , set in the stark landscape of the Thar desert It is divided into two parts - the old city and the new city. The old city is separated by a10 km long wall surrounding it. Also it has eight Gates leading out of it. The new city is outside the walled city.

It is also referred to as the Blue City due to the indigo tinge of the whitewashed houses around the Mehrangarh Fort .

The best time to visit Rajasthan is from late October till the end of February. The weather is cold, crisp, sunny and dry, with temperatures going down to 55 degrees Fahrenheit or 12 degrees Celsius. From early March it starts getting hot and the summer months of April, May and June are broiling hot with temperatures rising to 110 degrees Fahrenheit or 42 degrees Celsius with desert sandstorms. The monsoons come in late June to early July and last till August, cooling things down somewhat.

Tourist Attraction of Jodhpur

Mehrangarh Fort :
The Mehrangarh Fort lies at the outskirts of Jodhpur city and is located atop a 125 m high hill. The magnificent Mehrangarh Fort is the most majestic and one of the largest forts in India. Jodhpur Mehrangarh Fort History is related to Rao Jodha. He became the fifteenth Rathore ruler in 1458. The one thousand years old Mandore fort was slowly and gradually deteriorating. This led to the foundation of Mehrangarh Fort. Carved panels and. porches, elaborately adorned windows and walls of Moti Mahal, Phool Mahal, Sheesh Mahal, Sileh Khana and Daulat Khana, seem to make the medieval splendor come alive.

Jaswant Thada :
It is a royal cenotaph made up of white marble. It was built to commemorate Maharaja Jaswant Singh. Taking pride of place amongst the ornamental gardens and chattris is the fabulous white marble memorial to Jaswant Singh II, built in 1899. The cenotaphs of other rulers , in the same neighborhood , are relatively simpler.

Mandore garden :
The 'Mandore gardens', with its charming collection of temples and memorials, and its high rock terraces, is another major attraction. The gardens house the Chhatris (cenotaphs) of many rulers of the erstwhile princely state of Marwar . Prominent among them is the chhatri of Maharaja Ajit Singh of Marwar , built in 1793. Mandore, 10 km from Yogi's Guest House, was the capital of Marwar before the foundation of Jodhpur. It was founded in the 6th century, and passed to the Rathore Rajputs in 1381 after a marriage alliance between a princess of the original founders, the Pratiharas, and the Rathode Raja, Rao Chandor.

Umaid Bhavan Palace:
One of the fascinating palaces of Jodhpur is the Umaid Bhavan palace. Maharaja Umaid Singh constructed it in 20th century. A part of the palace has now been converted into a hotel and a museum. It was built as a public relief and employment project during a long period of drought. Over one million square feet (90,000 m²) of the finest marble was used in the construction of the palace. A special type of sandstone, called Chittar sandstone, has been used in constructing the palace and this gives it a special effect.

Osian Temple :
Osian (Osiyan) is an ancient town located in the Jodhpur District of Rajasthan state. Osian is a small village 65 km (40 miles) north-east of Jodhpur . It is an important Jain pilgrimage center for the Oswal Jain community. The ( Mahavira , महावीर) Temple, built here in A. D. 783, is an important tirtha for Jains built by Pratihara King Vatsa raja. The Jain Harivamsa Purana refers to Vatsa raja's rule in Saka year 705 (A. D. 783). It is believed that he was highly influiential in Upakesapura (Osian), as inscriptions of Vikram Samvat dating back to 1013 (A. D. 956), and refering to this place, have been found. It is a nice place to visit.